Woods won his first event of the season with an eight-shot freaking lead. And now at Dubai, he is already up by two shots. He has come out firing for the new season.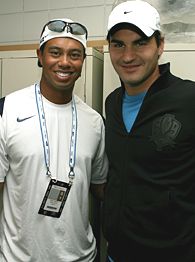 No matter what they say, both players have one eye on what the other is doing. It appears that's what is motivating them, since no one within their sport have the balls to step it up and work harder.
Up until last week, that is. Federer's loss at a Grand Slam is a major hit for him in that race. Woods's destruction is only making it worse. Or is it?
As if Djokovic was not enough reason to ramp it up, Woods comes along with his own fuel to ignite Federer's game. There's enough material for ignition, already. The question is which way will the rocket shoot, with that load?
Federer cannot ignore Woods annihilation, more so now that he is in Dubai. It could add another straw to the already immense pressure Federer has this year, or it could also spur Federer to new heights.
Either way, I think their meeting in Dubai will be good for Federer in many ways. Whether it will  translate into impossible forehands and backhands is up in the air.