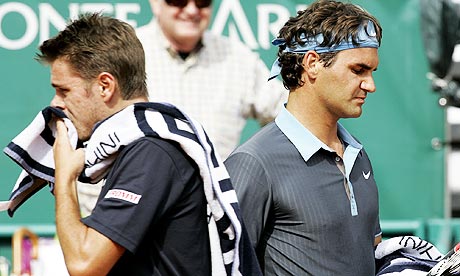 Federer leads H2H 3-1 but Wawrinka's lone win came in the fourth round of a clay event last year – Monte Carlo: 6-4, 7-5. But for whatever it's worth Federer did halt the slide in some ways by eliminating Wawrinka on the hard courts of Montreal. No info yet of what happened on softer surfaces though.
If you are Wawrinka you have to be torn in all different directions – some more pleasing than others – knowing that you have your own career to worry about in direct conflict with what's good for your boyfriend /country. As a Swiss you want the guy to go as high as he can as there's a virtual certainty that another of his kind may not be coming around EVER. Further compounded is the fact that you now have your own family and mouths to feed – which means bringing in as much money as possible is more important than winning titles. With Nadal looming like a terminator eliminating all possibilities of winning a title, taking out Federer hurts that much more while making money at his expense a conflicting proposition at best.
At 25, Wawrinka is already on the edge of 'playing for money only' slippery slope with any dreams of suddenly making it back into the top ten a distant reality. With a wife constantly reminding him of how bad his acne is getting with age the need to counter that with a steady stream of cashola is vital to keep appearances.
For Federer, just losing a match is annoying but under current conditions to have that happen from your own kind adds another smear of mustard to make you not forget. Just add clay to make it tastier.